An imputation/copula-based stochastic individual tree growth model for mixed species Acadian forests: a case study using the Nova Scotia permanent sample plot network
Forest Ecosystems
2017
4:15
Received: 25 June 2017
Accepted: 22 August 2017
Published: 14 September 2017
Abstract
Background
A novel approach to modelling individual tree growth dynamics is proposed. The approach combines multiple imputation and copula sampling to produce a stochastic individual tree growth and yield projection system.
Methods
The Nova Scotia, Canada permanent sample plot network is used as a case study to develop and test the modelling approach. Predictions from this model are compared to predictions from the Acadian variant of the Forest Vegetation Simulator, a widely used statistical individual tree growth and yield model.
Results
Diameter and height growth rates were predicted with error rates consistent with those produced using statistical models. Mortality and ingrowth error rates were higher than those observed for diameter and height, but also were within the bounds produced by traditional approaches for predicting these rates. Ingrowth species composition was very poorly predicted. The model was capable of reproducing a wide range of stand dynamic trajectories and in some cases reproduced trajectories that the statistical model was incapable of reproducing.
Conclusions
The model has potential to be used as a benchmarking tool for evaluating statistical and process models and may provide a mechanism to separate signal from noise and improve our ability to analyze and learn from large regional datasets that often have underlying flaws in sample design.
Keywords
Nearest neighbor imputationCopula samplingIndividual tree growth modelMortalityIngrowthMixed species stand developmentAcadian forestsNova Scotia
Background
Forest management planning requires long-term forecasts of resource flows (Baskerville 1986). Whether the forest management plan is focused on timber flows (Clutter et al. 1983; Baskerville 1986), carbon offsets (Birdsey 2006; MacLean et al. 2014), or other ecosystem services (Pretzsch et al. 2008), forest growth and yield models play a key role in the forest management process (Clutter et al. 1983; Weiskittel et al. 2011a). In addition to providing forecasts of long-term resource flows, growth and yield models are used to design silviculture interventions (Maguire et al. 1991; Barrett and Davis 1994), and to assess changes in factors such as fire risk (Keyes and O'Hara 2002) or wildlife habitat (MacLean et al. 2010). Because growth and yield models have such diverse applications, numerous types of models evolved over the years (Leary 1988; Weiskittel et al. 2011a). For much of the last 30 years, growth and yield research has concentrated on developing individual tree growth and yield models (Adlard 1995; Fox et al. 2007; Weiskittel et al. 2011a).
All individual tree growth models function similarly. A list of trees, usually representing some small areal extent (i.e., a "plot") are inputted into the model and the model predicts how those trees change over some time horizon. Changes in tree diameter at breast height (DBH) and total height (HT), as well as survival rates, are typically predicted (Weiskittel et al. 2011a). Some models may predict changes in other tree attributes such as height to crown base, crown ratio, crown width, and so on. Some models also predict new trees entering the list (i.e., ingrowth), but these equations are often highly imprecise due to the stochastic nature of regeneration processes (e.g., Li et al. 2011). Models differ primarily in terms of (1) what tree-level and stand-level information is required, and (2) how the underlying growth, survival, and ingrowth functions were derived (Flewelling et al. 1986; Dixon et al. 1991; Adlard 1995; Weiskittel et al. 2011a).
Dixon et al. (1991) suggest three components that are essential for any modelling system: 1) an understanding of the process or relationships being modelled; 2) mathematical, statistical, and computational techniques and equipment capable of handling the problem; and 3) experimental or survey data. Many of the individual tree models used in forest management planning are statistically derived (Weiskittel et al. 2011a), Most of the more widely used statistical models are derived from large regional growth and yield permanent plot networks (e.g., Flewelling et al. 1986; Dixon 2002; Woods and Robinson 2008; Weiskittel et al. 2013). Although these extensive datasets allow for developing robust equations that potentially extrapolate well, the parametric model forms and covariates generally used are relatively simplistic and may not fully leverage the available data. As a result, forest modellers are often accused of having the above list of components in reverse order (Adlard 1995).
More sophisticated statistical methods for deriving growth and yield models (e.g., Bayesian approaches or Big Data Analytic approaches) have seen more limited applications to date, but may result in more robust model behaviour as well as allow better insights into the underlying processes driving tree and stand development. However, no matter how complex the underlying equations, statistical models generally predict the average growth conditions given a realization of a set of independent variables. While their deterministic output has been particularly useful for forest management planners (Flewelling et al. 1986; Weiskittel et al. 2011a), this deterministic nature also has been one of the main criticisms of statistically derived models (Dixon et al. 1991; Vanclay 1991; Johnsen et al. 2001). Assessment of uncertainty and the propagation of prediction errors through the various equations over time is a complicated undertaking (Vanclay 1991; Fox et al. 2007). This complexity of adequately quantifying uncertainty is the result of the number of equations involved, the various sources of uncertainty (e.g. measurement vs. model error), and the questionable assumption of error independence among the equations. However, the uncertainty in growth and yield models can be quite high. For example, Weiskittel et al. (2016) found that standard error for total stand volume ranged from 4 to 6% after forty years of projection for relatively homogeneous Douglas-fir (Pseudotsuga menziesii (Mirb.) Franco var. menziesii) plantations in the Pacific Northwest using an individual tree growth and yield model. Likely, this projection uncertainty is even higher for more complicated stand structures, forest types, and management regimes.
Vanclay (1991) reviewed approaches used to incorporate stochasticity into growth projection systems, and considered many approaches to be either naïve attempts or ad hoc swindles. Vanclay (1991) proposed that change be expressed using probabilistic functions. Deterministic predictions can be obtained by using these functions to represent proportions of populations, while stochastic predictions can be obtained by using these functions to represent probabilities for individuals. Vanclay's (1991) approach produced a system of compatible deterministic-stochastic predictions. Fox et al. (2007) reviewed the use of hierarchical mixed effects models to incorporate structured spatial and temporal stochasticity directly into growth equations. They argue that the very nature of the data used in growth and yield modelling (i.e., trees measured within plots, repeatedly over time) necessitates the need to incorporate structured stochasticity into models and discuss several ways this may be accomplished.
In an alternative approach to incorporating stochasticity into growth models, McGarrigle et al. (2013) developed a stand-level model based on what they call informed random walks. In their approach, a large regional growth and yield database, assembled for the forests of northeastern North America (Weiskittel et al. 2013), was compiled into a stand-level reference database, and the resulting stand-level model alternately utilizes imputation-based selection of nearest neighbors from the reference database and copula sampling to grow stands through time. The structure of the model was fairly simple, but was able to produce a wide range of stand trajectories and behaviors across a range of stand conditions defined within Reineke's (1933) stand density space (McGarrigle et al. 2013). This model provided some unique insights into the variability in prediction uncertainty across the stand trajectory space. McGarrigle (2013) further demonstrated how this model could be useful for model evaluation and benchmarking.
In this study, we propose an individual tree imputation/copula model similar to the stand-level model developed by McGarrigle et al. (2013). The model structure and development is presented, and the model behavior is compared with the Acadian variant of FVS (Weiskittel et al. 2014) using a set of stand ideotypes and the extensive Nova Scotia, Canada permanent sample plot network. Potential applications of this model and future extensions are discussed.
Results
Bandwidth selection
Average percent mortality error ranged from about 24% to 32% across the bandwidths used in the study (Fig.
5a
). Both the range in mortality error and average mortality error were minimized with K = 40 nearest neighbors. Average DBH growth error ranged from about 12% to 18%, and was relatively unaffected by bandwidth until it exceeded 40 (Fig.
5b
). DBH growth error increased steadily and sharply for K = 50 and 60. The minimum average DBH growth error was observed at K = 30; however, the minimum range in error was observed at K = 50. Average HT growth errors ranged from 12% to 17% (Fig.
5c
), and was unaffected by bandwidth; however, the range in error generally increased with increasing bandwidth.

Similar to the average HT growth errors, ingrowth rate errors were not greatly influenced by bandwidth (Fig.
6a
); however, ingrowth errors were almost double the error rates observed for DBH and HT growth, yet were similar to the error rates observed in mortality. Average ingrowth errors ranged from about 28% to 31% and generally increased slightly across the range of bandwidths. Errors in ingrowth species composition ranged from about 20% to almost 50% across the range of bandwidths (Fig.
6b
). Both the average error and range in error increased rapidly with increasing bandwidth.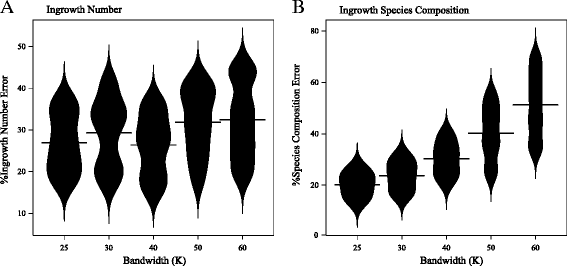 Copula sample intensity
As long as sample size was >1 and not excessive (generally <30), the number of samples selected from the copula, and averaged to produce the DBH and HT growth estimates, had very little influence on model behavior and stand trajectories (not shown). A single sample produced extremely variable individual tree and stand trajectories. As sample size increased, the variability in individual tree and stand trajectories decreased. For all analyses shown in this paper, we used a sample size of 10 as a compromise between large variations in tree and stand development and smoothing out the variability completely. Sample size had much greater effect on ideotypes at the lowest densities and greatest Dq; however, trends were similar across the entire range of density and Dq.
Model comparisons
Figure
7
compares observed plot trajectories for five plots from the NSPSP database with predictions from FVS-Acadian and the I/C Model developed here. Plots were chosen based on observation longevity and to highlight interesting differences in behavior between the FVS model and the I/C model. For Plot 700, both models predict trajectories that are very close to the observed plot trajectory. This stand was similar in structure and composition to the intolerant hardwood-mixedwood ideotype. For Plot 2 the two models have similar predictions; however, neither reflect the observed plot trajectory very well. Plot 2 is a softwood dominated type and during the first two measurement cycles experienced significant balsam fir mortality, most likely due to natural stand breakup or possibly spruce budworm defoliation. In Plots 44 and 479, the I/C model produces predictions that very closely agree with the observed trajectories, while the FVS predictions deviate substantially. Plot 44 is an intolerant hardwood type and the FVS model predicted substantial mortality in this stand while the I/C model did not predict much change in either mortality or ingrowth, especially at optimal bandwidth (k = 40). Plot 479 is balsam fir dominated and experienced substantial mortality through the measurement period, again most likely due to spruce budworm defoliation. Unlike Plot 2, in this case, the I/C model was able to chose appropriate nearest neighbor trees to capture the mortality dynamics. Plot 479 was much more heavily dominated by balsam fir while red spruce was the dominant species in Plot 2. Plot 1359 represents a case where the observed trajectory, the FVS predicted trajectory, and the I/C model trajectory are all very different. Plot 1359 is another intolerant hardwood-mixedwood stand with a large amount of red maple. It appears that small-diameter red maple and red spruce mortalities are over-predicted in the FVS model. It also appears that the ingrowth of red spruce is generally under-observed (at least relative to the rates observed in Plot 1359) in the NSPSP database (i.e., this may reflect a lack of younger stands in the database).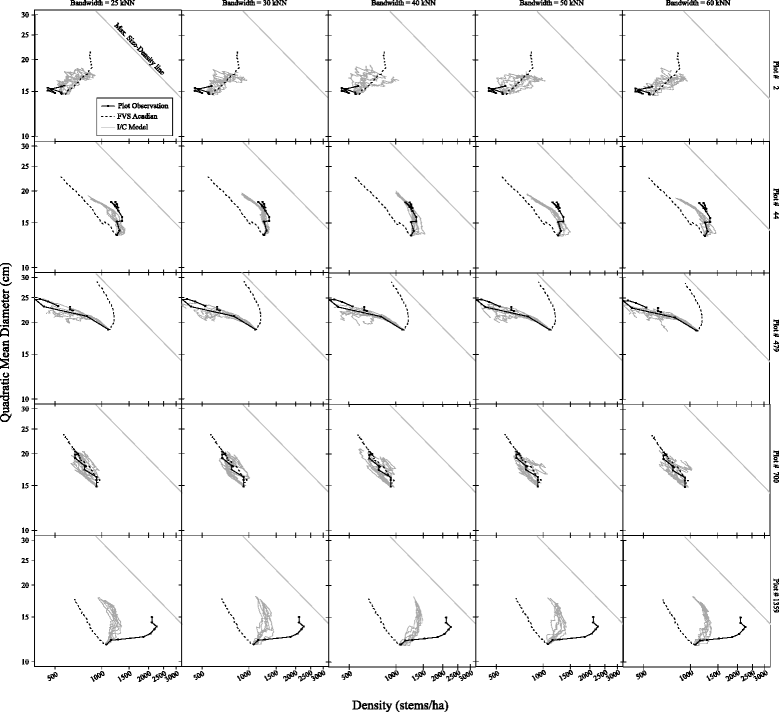 Figure
8
shows the development trajectories from FVS-Acadian and the I/C model for the IHMW and BS stand ideotypes and k = 25 and 40. For both ideotypes, k = 25 resulted in trajectories from the I/C model that were substantially different from those obtained using FVS-Acadian. For the lower relative density stands, differences were less pronounced; however, as relative density approach the maximum size-density line, the trajectories from the I/C model had increasing deviations from the FVS-Acadian projections. Most of the source of deviation at the higher relative densities was due to errors in mortality predictions (Fig.
5a
), resulting in trajectories that were much flatter (i.e., higher mortality rates and lower changes in Dq) than what were associated with the FVS-Acadian projections. When k = 40, these flat trajectories were almost completely eliminated, and the two models more closely agreed with one another. The lower ideotype densities and the upper quadratic mean DBHs were notably exceptions. When Dq = 28 cm, all ideotypes had trajectories from the I/C model that often went in opposite directions from the trajectories obtained from FVS-Acadian.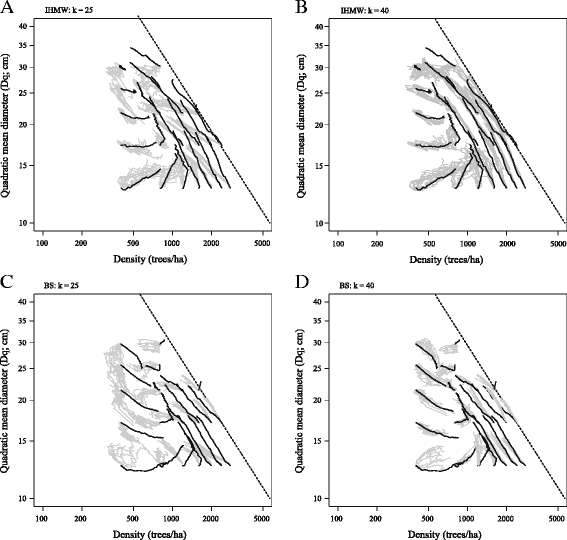 Trajectories for the intolerant hardwood ideotypes (not shown) were very similar to those for the intolerant hardwood - mixedwood type, while the tolerant softwood ideotypes (not shown) were more similar to those for the BS type. However, the tolerant softwood type did not have as flat trajectories as those observed for the other types when k = 25, suggesting that mortality predictions for tolerant species might be less sensitive to bandwidth.
Discussion
The model developed here is purely data-driven with minimal assumptions that include: 1) that the set of nearest neighbors is adequate to predict the growth and survival of individual trees and the number and species composition of ingrowth trees; and 2) there is an optimal or preferred set of covariates from which to match nearest neighbors. Given these simple assumptions, the model developed here was capable of producing complex stand trajectories, generally consistent with those obtained from FVS-Acadian, a statistically derived model with several complex equations. The results obtained here are very similar to those obtained by McGarrigle et al. (2013) and McGarrigle (2013) for stand-level modelling dynamics.
While model performance was generally good, and in agreement with predictions from FVS, a widely accepted statistical model, there is still room for improvement. Errors associated with DBH and HT growth were similar to error levels obtained by other growth studies in the region using nonlinear mixed effects models (Russell et al. 2011; Russell 2012; Russell et al. 2014) and are consistent with error levels commonly observed in many growth and yield studies (e.g., Ek and Monserud 1979; Bragg 2003; Weiskittel et al. 2011a). DBH growth was not strongly influenced by bandwidth except when bandwidth was greater than 40 nearest neighbors. HT growth was not influenced by any of the bandwidths tested in the study.
On the other hand, both mortality and ingrowth had substantial error rates (Figs. 5 and 6) with ingrowth species composition being poorly predicted (Fig. 6). Mortality and ingrowth were very sensitive to bandwidth choice (Figs. 5 and 6). Percent mortality error was reduced from about 30% to around 20% as bandwidth increased from 25 to 40 nearest neighbors and remained more-or-less constant for bandwidths greater than 40. The larger errors associated with small bandwidths most likely reflects the influence each tree has on mortality probability. When k = 25, each tree represents 4% of the population, and, since survival probability is calculated as the proportion of trees surviving the measurement interval, each dead tree represents a 4% reduction in survival. At k = 40, this reduction is reduced to 2.5%. Overall mortality in the database averaged about 2.8% annually. Larger bandwidths would reduce the impact individual trees have on mortality rates; however, selecting individuals that are increasingly more different than the target tree might increase error rates in other ways, which might be what is contributing to the small increase in mortality error when k = 60 (Fig. 5a).
Ingrowth rate was not influenced greatly by the bandwidths explored in this study (Fig. 6a); however, ingrowth species composition prediction was very sensitive to bandwidth, with errors increasing steadily with increasing bandwidth. The primary source of species composition errors was due to species not found on the plot being selected during the imputation and sampling process. Even though plot-level species composition was included in the reference variables used in the imputation step, this only represents local seed source availability (Ek et al. 1996; Archambault et al. 2009; Arseneault et al. 2011), and does not include any consideration of nearby seed sources. More explicit georeferencing of the plots and inclusion of a physical distance from target plot may reduce the incidence of stray species appearing as ingrowth. Additionally, the climate-based site index (CSI) was the only site factor included in the I/C model in this study. CSI, like all site index measures, is a composite measure of site productivity based on height modified by climate (Weiskittel et al. 2011b) and there are many other factors that influence regeneration species composition (Bakken and Cook 1998; Bataineh et al. 2013). Incorporation of local climatic variation and edaphic factors might improve ingrowth species composition.
Finally, the data used in this study came only from Nova Scotia, a relatively narrow portion of the range associated with many of the species. This relatively narrow range of data may explain some of the differences in predictions between the Acadian FVS model, developed from a much larger regional database, and the I/C model developed here. Additional testing of the model approach using the full Acadian Forest database is required, but will also require substantial increases in computational resources. The current model formulation was run on a minicomputer with 2 quadcore processors and 128Gb of RAM using the multiprocessing capability in R (R Development Core Team 2016). Twenty-five year projections with 25 replicates required 15–20 h to run depending upon bandwidth. The imputation step was the most time-consuming portion of the algorithm and increased with increasing bandwidth. Obviously, while this complexity and required computing time might limit application of the I/C model, potential gains in efficiencies are likely in the future.
Multiple imputation has found many applications in forestry and ecology over the past several years. Random forest imputation has become the standard analytical tool for LiDAR analyses (e.g., Hudak et al. 2008; Dassot et al. 2011; Gregoire et al. 2011; Hayashi et al. 2015). Imputation techniques are also widely used in forest inventory to estimate missing values (Eskelson et al. 2009b), and to spatially allocate forest inventory data over the landscape (McRoberts 2001; McRoberts and Tomppo 2007; Eskelson et al. 2009a; Falkowski et al. 2010). While imputation techniques have found many applications for static forest inventory estimates, growth and stand dynamics applications have seen much less attention. To our knowledge, this is only the second model to apply an imputation-copula approach to model forest stand dynamics (see McGarrigle et al. 2013 for the other example), and the first to apply it to individual tree dynamics.
Conclusions
Over the past several decades there has been much debate over the appropriateness of statistical versus process models (e.g., Dixon et al. 1991; Adlard 1995; Johnsen et al. 2001). While it is generally scientifically appropriate to engage in debate regarding model approach/philosophy, model structure, and model complexity, the role these large regional datasets play should not be downgraded or ignored. Even given many underlying experimental and sampling design flaws, these datasets contain a wealth of information on forest change that only now are we more fully understanding. Big data analytics, which has been utilized widely in other fields, may enable forest modellers to gain new insights into the underlying processes and better separate signal from noise.
Declarations
Authors' contributions
JAK developed the program and ran all of the simulations and analyses and coordinated the manscript writing, ARW contributed significantly to the writing of the introduction and discussion and ran all of the FVS projections, MBL provided significant input into the manuscript through many reviews and helped structure the model to be easily expanded to include climatic variables, HEM provided significant input throughout the manuscript preparation and conceived the original stand-level model from which this model was developed. All authors read and approved the final manuscript.
Competing interests
The authors declare that they have no competing interests.
Open AccessThis article is distributed under the terms of the Creative Commons Attribution 4.0 International License (http://creativecommons.org/licenses/by/4.0/), which permits unrestricted use, distribution, and reproduction in any medium, provided you give appropriate credit to the original author(s) and the source, provide a link to the Creative Commons license, and indicate if changes were made.
Authors' Affiliations
(1)
University of New Brunswick, Fredericton, Canada
(2)
University of Maine, Orono, USA
(3)
Atlantic Forestry Centre, Natural Resources Canada, Fredericton, Canada
(4)
Nova Scotia Natural Resources, Forestry Division, Truro, UK