Tree species diversity and utilities in a contracting lowland hillside rainforest fragment in Central Vietnam
Received: 11 February 2017
Accepted: 16 May 2017
Published: 5 June 2017
Abstract
Background
Within the highly bio-diverse 'Northern Vietnam Lowland Rain Forests Ecoregion' only small, and mostly highly modified forestlands persist within vast exotic-species plantations. The aim of this study was to elucidate vegetation patterns of a secondary hillside rainforest remnant (elevation 120–330 m, 76 ha) as an outcome of natural processes, and anthropogenic processes linked to changing forest values.
Methods
In the rainforest remnant tree species and various bio-physical parameters (relating to soils and terrain) were surveyed on forty 20 m × 20 m sized plots. The forest's vegetation patterns and tree diversity were analysed using dendrograms, canonical correspondence analysis, and other statistical tools.
Results
Forest tree species richness was high (172 in the survey, 94 per hectare), including many endemic species (>16%; some recently described). Vegetation patterns and diversity were largely explained by topography, with colline/sub-montane species present mainly along hillside ridges, and lowland/humid-tropical species predominant on lower slopes. Scarcity of high-value timber species reflected past logging, whereas abundance of light-demanding species, and species valued for fruits, provided evidence of human-aided forest restoration and 'enrichment' in terms of useful trees. Exhaustion of sought-after forest products, and decreasing appreciation of non-wood products concurred with further encroachment of exotic plantations in between 2010 and 2015. Regeneration of rare tree species was reduced probably due to forest isolation.
Conclusions
Despite long-term anthropogenic influences, remnant forests in the lowlands of Vietnam can harbor high plant biodiversity, including many endangered species. Various successive future changes (vanishing species, generalist dominance, and associated forest structural-qualitative changes) are, however, expected to occur in small forest fragments. Lowland forest biodiversity can only be maintained if forest fragments maintain a certain size and/or are connected via corridors to larger forest networks. Preservation of the forests may be fostered using new economic incentive schemes.
Keywords
Secondary evergreen monsoon forestFloristic patternsTree species richnessTimberNTFPBiodiversity conservation
Background
Astonishing new species discoveries during recent decades have highlighted Vietnamese forests' biological richness (>11,300 vascular plants recorded) and high levels of endemism (~3% of vascular plant genera) (Wikramanayake et al. 2002; Sterling et al. 2006; MoNRE 2011). This has attracted attention from naturalists but also highlighted significant gaps in the knowledge and understanding of Vietnam's biological heritage and corresponding significance for conservation (Sterling and Hurley 2005; Ceballos and Ehrlich 2009; Wilson et al. 2016). Notably, many discoveries were made in degraded forests which nonetheless support many potentially threatened species (Cochard et al. 2017).
Vietnam's forests have been influenced by humans for centuries. Local communities extracted forest products for private use and for trade, promoted valuable tree species in nearby forests, and cleared forest areas for intermittent swidden agriculture (Fox et al. 2000; Wetterwald 2003; McElwee 2016). Sweeping impacts on forests ensued from French colonial forestry (McElwee 2016), and during the country's struggle for independence large forest areas were damaged by impacts of war (especially aerial herbicides; Brauer 2009). Post-war logging and deforestation exacerbated as a result of timber exploitation by state forest enterprises (SFEs) or resource overuses following economic crises linked to collectivization and internal migration programs (De Koninck 1999; McElwee 2004, 2016).
During the 1990's policy changes, aided by agricultural development, led to improvements in forest management. With support from international donors, large reforestation programs were set up. Local communities were supported financially and logistically to build tree nurseries and engage in reforestation. At the same time, forestlands were allocated to households and communities, with specific rights to harvest products, but also duties to improve and protect the allocated forests. As a result, many forests regenerated, partially aided by human interventions such as native-species tree planting, access restrictions, and fire controls (Meyfroidt and Lambin 2008; Cochard et al. 2017). Nonetheless, pressures from 'illicit' selective logging often remained high, especially in easily accessible forests (McElwee 2004, 2010). Threats are now increasingly posed by the boom in plantation forestry, especially within the biodiverse but poorly documented 'Northern Vietnam Lowland Rain Forests Ecoregion' (Wikramanayake et al. 2002). Since the late 1990s industrially managed exotic-species plantation forests (based on hybrid acacias used for pulp production) have expanded at fast rates and encroached on remaining natural forests in lowland areas (Thiha et al. 2007; McElwee 2009; Ha 2015; Cochard et al. 2017).
In hilly areas in southern parts of Thừa Thiên-Huế Province, transitional between the coastal plains and the inland Trường Sơn (Annamite) Mountain Ranges, a formerly extensive rainforest has been successively reduced and largely supplanted by exotic acacia plantations. Forest remnants are now mostly located in marginal areas, such as steep hillsides, or depressions near rivers (Fig.
1
). In 2010 we conducted a vegetation survey in one major forest fragment (so-called 'HPC-forest'). Residents of nearby villages continue to exploit forest products from this forest fragment (D.T. Ngo, pers. comm.). The aims of the study were to 1) record the fast disappearing forests' tree composition and observe patterns of vegetation diversity within the context of ecology/biogeography as well as past and on-going anthropogenic influences, and 2) gain insights into forest values (in terms of timber and non-timber forest products) within past and current socio-economic contexts. The species composition of the forest fragment was, furthermore, discussed in regards to the isolation and continuing deforestation of the fragment – patterns and processes which may be representative for other cases of small-scale forests in the lower-lying areas of Central Vietnam.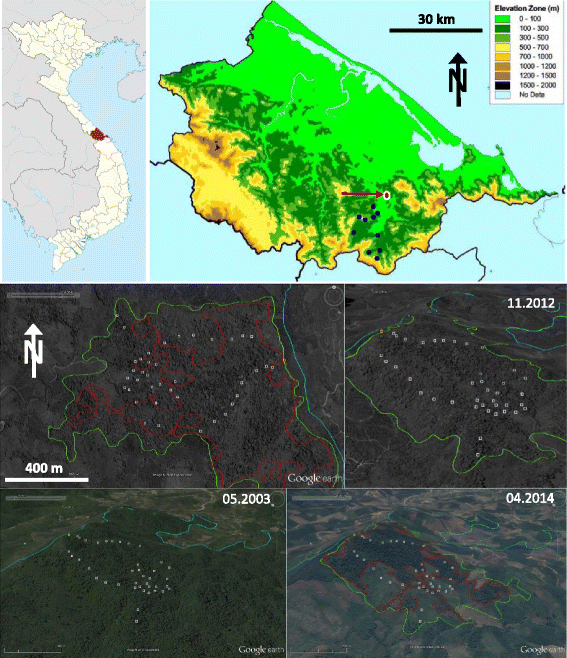 Results
Tree species diversity and floristic-structural forest patterns
In total 170 species of 88 genera and 45 plant families were recorded in a sample of 2,384 trees (of which 27.6% were 'sapling' sized) in the survey (on 1.6 ha). In addition, two rattan species were only recorded at 'seedling' size. Most species (128) could be clearly identified, but 32 were identified only to genus, and 12 rare species remained unknown. The most important plant families by tree count were the Arecaceae (representing 15% of all trees/shrubs; 15 species), Euphorbiaceae (7%; 15 spp.), Fagaceae (7%; 5 spp.), Burseraceae (7%; 5 spp.), Myristicaceae (6%; 3 spp.), Moraceae (6%; 9 spp.), Cannabaceae (5%; 2 spp.), Lauraceae (5%; 18 spp.), Myrtaceae (5%; 4 spp.), Sapotaceae (4%; 4 spp.), Sapindaceae (4%; 7 spp.), and Rubiaceae (3%; 3 spp.).
A majority of identified species (44%; including dominant species), had a predominantly southward-tropical distribution, but many species (36%) were distributed within the Sino-Himalayan mountain regions or were regional endemics (within the Trường Sơn Ranges; 18%) (Table
1
). A large majority of species was rare; rank/abundance patterns did not differ substantially among different tree size strata (Fig.
4
). No species was recorded on all plots, but several common species were found more or less throughout HPC-forest (Tables
2
and
3
). Trees with a DBH ≥10 cm were represented by 129 species (i.e. 75%). Calculations using log-logistic models (Fig.
4
) indicated that on average ~70.2 'large' tree species (DBH ≥10 cm) and an additional ~23.4 smaller-sized species may be found on one contiguous hectare.
Table 1
Biogeographic distributions by species (% of all species recorded) and corresponding dominance in terms of tree numbers (%) and biomass volume (TeAGB, %)
Biogeographic distribution (according to literature)

Species

Dominance (%)

(%)

Trees

TeAGB

unknown

30.5

8.0

7.4

endemics (central Vietnam)

8.6

17.0

6.1

endemics (wider Vietnam)

7.2

1.6

1.7

Vietnam, Laos/Cambodia

3.9

4.0

10.4

Vietnam and Malaysia only

2.3

3.0

1.8

wider mainland Southeast Asia

17.2

15.7

12.5

wider Southeast Asia (w. insular)

25.0

25.4

22.4

Vietnam and South China only

17.8

10.0

12.6

Vietnam, China, Laos/Cambodia

5.5

5.9

7.2

wider South Asian-Himalayan

10.9

4.2

10.0

wider Asia (including temperate)

3.1

4.3

6.7

introduced species

2.3

0.8

1.1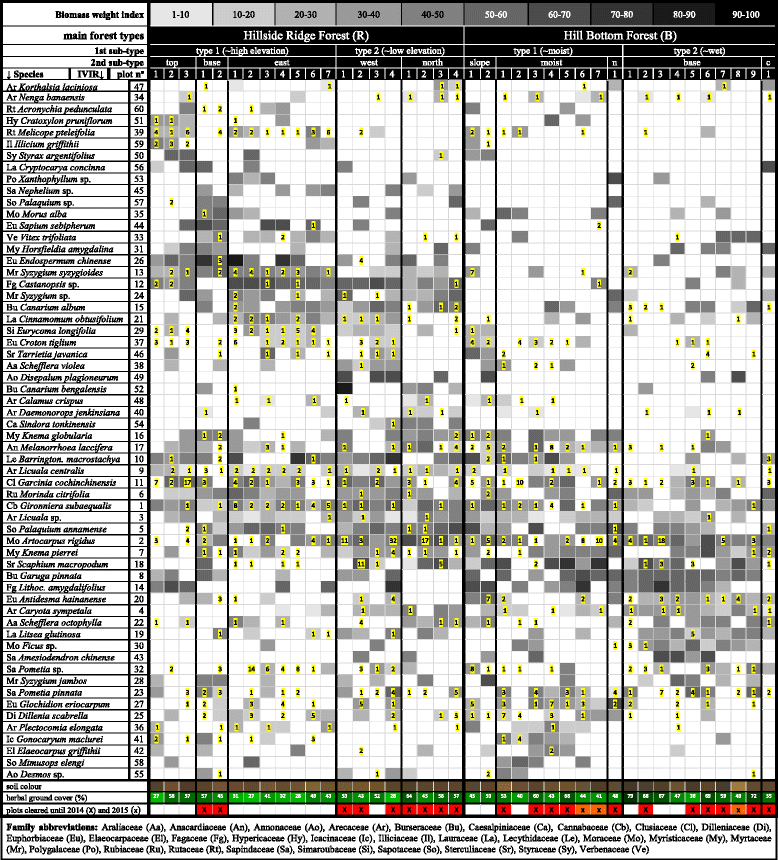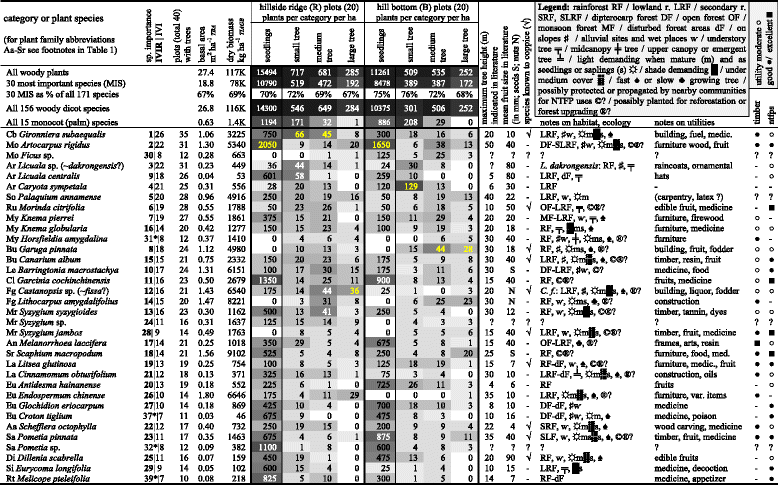 Despite significant overlaps of species distributions, vegetation dendrograms revealed two relatively clearly distinguishable forest types that were mostly related to terrain (Figs.
3
and
4
, Table
2
). One type, referred to as 'hillside ridge' (R) forest (represented by 20 plots), was mostly distributed at higher elevations (Table
4
, Fig.
4
). This R-type could be further split into sub-types R1 (12 plots) and R2 (8 plots). R1-plots were mostly found on higher-lying eastern and southern hill ridges (west-/southwest-facing slopes); R2-plots were mostly located at mid-elevation on northern ridges (northwest-facing slopes). Another type, termed 'hill bottom' (B) forest (20 plots), was found mostly at lower elevations. It could be split into sub-type B1 (10 plots), predominantly located on moist (soil pH 6.5 ± 0.3) and mild slopes (mean inclination 43° ± 18°), and B2 (10 plots), commonly on steeper (63° ± 9°) wet slopes close to creeks (soil pH 6.9 ± 0.2) (Fig.
4
). Further divisions into vegetation sub-types were possible (Fig.
3
, Table
2
).
Table 4
Summary of data (mean ± standard deviation) on terrain and soil parameters, forest structure and diversity for R- and B-forest types (20 plots each)
Variables (plot mean)

Ridge R

Bottom B

Variables (plot mean)

Ridge R

Bottom B

plot elevation (m)

245*** ± 62

176 ± 42

herbal ground cover (%)

44.8 ± 12.4

54.5* ± 12.3

plot steepness (% grade)

44 ± 17

53 ± 17

species richness (plots)

26.9*** ± 5.3

20.3 ± 4.6

soil organic matter (%)

4.61 ± 0.73

4.79 ± 0.84

Shannon diversity index

3.04** ± 0.2

2.78 ± 0.24

soil nitrogen (‰)

1.46 ± 0.34

1.75' ± 0.61

Inverse Simpson index

25.3' ± 9.1

20.5 ± 7.3

soil phosphorus (‰)

0.46 ± 0.11

0.50 ± 0.08

Shannon evenness

0.93 ± 0.03

0.93 ± 0.02

soil pH

6.72 ± 0.27

6.71 ± 0.33

timber

excellent timber (%)

4.4 ± 7.7

5.0 ± 11.0

soil water content (%)

30.2 ± 5.5

30.3 ± 6.9

good timber (%)

35.0 ± 18.5

47.1' ± 23.1

tree (Ø ≥6 cm) count ha–1

1169* ± 251

989 ± 254

moderate timber (%)

42.9* ± 18.7

31.6 ± 14.3

sapling count ha–1

515** ± 285

308 ± 94

unknown value (%)

11.9 ± 12.9

10.5 ± 11.6

dicot tree seedlings m-1

1.42* ± 0.61

1.04 ± 0.47

(only dicot trees with DBH ≥15 cm; percentage of TeAGB in category)

mean dicot tree dbh (cm)

12.7 ± 1.8

14.2* ± 1.7

NTFP

excellent NTFP (%)

9.9 ± 9.2

19.5 ± 17.4

mean (all) tree height (m)

7.9' ± 0.8

7.4 ± 1.0

good NTFP (%)

24.8 ± 12.9

23.7 ± 15.3

mean max. tree height (m)

19.6* ± 3.2

17.6 ± 3.1

moderate NTFP (%)

30.6' ± 13.1

23.6 ± 12.3

TBA (m2∙ha–1)

30.1' ± 11.1

24.8 ± 7.9

unknown value (%)

11.8 ± 10.4

11.0 ± 10.3

TeAGB (tons∙ha–1)

126.4 ± 54.2

107.7 ± 45.7

(all trees, saplings and palms; percentage of TeAGB in categorys

dead biomass (% TeAGB)

6.7 ± 8.4

10.8' ± 11.1

plots cut (%) 2010-2015

45%

70%
The vegetation types were determined by species distributions (Tables 1 and 3; cf. Discussion Section); no distributional gradients within the vegetation were discernible in regards to entire plant families (Additional file 2: Table S1). Compared to R-forest, B-forest was characterized by significantly lower densities of trees, saplings and seedlings. Correspondingly, various tree growth parameters (mean DBH and height, maximum height, TBA, dead biomass) differed between R- and B-forest (Table 4, Fig. 4). Soil N and herbal ground cover were slightly higher in B-forest, but other soil parameters did not differ significantly (Table 4).
Tree species richness was significantly higher in R-forest as compared to B-forest. Model calculations indicated that around 99.0 tree species (thereof ~70.2 with DBH ≥ 10 cm) and 84.4 species (~62.9 with DBH ≥ 10 cm) would be found on average on one contiguous hectare of R- and B-forest, respectively (Fig.
5b
). Correspondingly, plot-level species richness as well as Shannon and (marginally) Simpson diversity indices were higher in R- forest as compared to B-forest (Table
4
).

Utilities and conservation values of forest tree species as inferred from literature
Of the trees (DBH ≥6 cm) present on plots 35% were in harvestable timber range with a DBH of ≥15 cm, and 8% with DBH ≥30 cm (Fig.
6
). Among the 172 woody species recorded 12 species (7%) were assessed to provide timber of 'excellent' value, 32 (19%) of fairly 'good', 44 (25%) of 'moderate', 41 (24%) of 'insignificant' (or undescribed), and 43 (25%) of unknown value. Only 4.7% of the biomass (TeAGB) stock on the plots was in 'excellent' harvestable timbers. The biomass of 'good' timber was slightly higher in B-forest compared to R-forest (Table
4
). In between 2010 and 2015 larger portions of B-forest (70% of plots) were converted to acacia as compared to R-forest (45%; Tables
1
and
4
), but cut and non-cut plots did not differ significantly in terms of TeAGB of 'excellent' and/or 'good' timber.

Most identified species were known to provide some potentially useful non-timber forest products (NTFPs) ranging from edible fruits and nuts, saps used for medicine, to materials (e.g. rattan rods, dies, leaves) useful for handicrafts (Table 3). Eight species (5%) could provide NTFPs assessed as 'excellent' value, 35 species (20%) of 'good', 41 (24%) of 'moderate', 43 (25%) of 'insignificant' (or undescribed), and 45 (26%) of unknown value. The TeAGB of tree species providing 'excellent' NTFPs was relatively high (14.7%). Compared to R-forest, B-forest was characterized by higher ratios of trees (in terms of TeAGB) providing 'excellent' NTFPs, and lower ratios of trees with 'moderate' NTFPs, but due to high variability among plots the differences between vegetation types were only marginally significant (Table 4). The plots which were cut in between 2010 and 2015 were, however, characterized by a significantly (T-Test: t = 2.96, p = 0.005) higher biomass ratio (20.0% ± 16.0%) of 'excellent' NTFP species compared to the non-cut plots (7.4% ± 8.4%) (other differences being insignificant).
Conclusions
Lowland forests in North-Central Vietnam are rich in biodiversity and endemic species, but most of the few remaining forests have been and are being anthropogenically modified. Repeated cycles of selective logging by state forest enterprises (SFEs) and other actors have caused once-dominant tree species to become rare and endangered. Logged-out forests were subsequently 'enriched' with economically valuable tree species, especially during forest restoration initiatives. Such impacts and changes were noticeable in the species composition of the studied forest near Hương Phú Commune (HPC). Nonetheless – or perhaps partly because of this – the HPC-forest was characterized by a tree species richness which rivals the diversity found in many better-protected forests in Vietnam.
HPC-forest is one of the last rainforest remnants below ~350 m a.s.l. in Thừa Thiên-Huế Province. Tree species assemblages in this hillside forest were transient between lowland and colline/sub-montane rainforest. As this fragment was connected to a much larger forest only a few years ago, few signs of fragmentation-induced plant community degradation were as yet evident, but rare species (and a few common species) were already disproportionately under-represented by seedlings. Furthermore, on-going extraction of certain types of timber and non-timber forest products (NTFPs, especially rattan) by villagers probably explained the rarity/absence of certain commercially important species. The decreasing value of the forest for villagers (due to resource over-uses and changing economic activities/livelihoods) currently coincides with a boom in industrial plantation forestry. This caused the forest fragment to contract by half its size in between 2010 and 2015. One may expect that HPC-forest will be replaced entirely by plantations within coming years, but it may not yet be too late to safeguard parts of a larger fragment located nearby to the north.
Particularly in view of projected climate change, conservation and management of remaining lowland forests should be strengthened. Under global warming species assemblages are expected to shift upwards in altitude, whereby lowland species will be important to sustain natural forests at mid-altitudes (Colwell et al. 2008; Feeley and Silman 2010). Lower-lying forest fragments should be conserved and possibly connected via corridor strips to nearby protected contiguous forest areas – to facilitate movement of pollinators and seed dispersal agents (Hilty et al. 2006). Conservation programs should be fostered in collaboration with local residents, and may be financially sourced from newly emerging 'payments for ecosystem services' (PFES) and/or international funding schemes (Sharma et al. 2016; Thang and Duong 2016). Such programs should contribute to the maintenance/revival of the ethno-botanical cultural heritage; alliance with eco-tourism could generate new incomes for local villagers and help preserve 'spice-garden' forests (Joliffe 2014). Inventories and exploration of new medicines from traditional recipes could contribute to developing new marketable products as well as maintain ethno-botanical knowledge (Tran and Ziegler 2001; Hoang et al. 2008), and the safeguarding of natural forests on hillside catchments would help alleviate water shortages (for agricultural irrigation) during dry winter seasons (Tran et al. 2013b; Cochard 2013, 2016). As noted by Woodruff (2010, p. 935) "biogeographers and conservationists must act as if their efforts in the next 20 years will affect the quality of life in this region for at least a thousand years."
Abbreviations
AIT:

Asian Institute of Technology
BA:

Tree bole basal area (1.3 m above ground)
CORENARM:

Consultative and research center on natural resource management
DBH:

Diameter at breast height (1.3 m above ground)
GPS:

Geographical positioning system
H':

Shannon diversity index
HPC-forest:

Studied forest fragment near Hương Phú Commune
HUAF:

Huế University of Agriculture and Forestry
eAGB:

Estimated (using allometric formulae) above-ground dry tree woody biomass
IVI:

Importance value index
IVIR:

Importance value index rank
J':

Shannon Evenness
N:

Total Kjehldahl soil nitrogen
NTFP:

Non-timber forest product
P:

Total Kjehldahl soil phosphorus
OM:

Soil organic matter content (weight loss on ignition)
RGB values:

Red, green, blue soil chromaticity values
TeAGB:

Total estimated dry above-ground woody biomass
TBA:

Total tree basal area
UTM coordinates:

Universal transverse mercator system coordinates
1/D:

Inverse Simpson diversity index
Declarations
Acknowledgements
Funding and coordination of the study was administratively facilitated by Professors Duong Viet Tinh and Dang Thai Duong (both HUAF), and Ganesh Shivakoti (AIT). Ngo Tri Dung, Tran Minh Duc and Nguyen Hoi (all from HUAF) provided assistance in plant species identification. HUAF students helped in field work: Phan Trong Tri, Nguyen Van Trong, Nguyen Van Thong, Nguyen Thi Thanh, Nguyen Thi Bich Ngoc, Le Van Ninh, Nguyen Thanh Tay, Dau Thanh Long and Phan Dinh Hoai Bao. Thanks also go to Uncle Quang and other foresters in La Hy Forestry Department for providing field workers with food and accommodation. We thank two anonymous reviewers and Professor Christian Kull (University of Lausanne) for making useful recommendations to improve the manuscript.
Funding
The study was supported financially by the MacArthur Foundation Scholarship Program and the Asian Institute of Technology (AIT) Fellowship Program.
Availability of data and materials
A full list of species recorded in this survey, including summary statistics and additional information, is provided in Additional file 2: Tables S1 and S2. Additional information on the study site (Additional file 1: Figure S1), HPC-forest composition (Additional file 1: Table S1), and forest structure (Additional file 1: Figure S2) is provided in Additional file 1.
Authors' contributions
VTY conducted the field survey and species identifications. Data analysis and paper write-up was done by RC and VTY collaboratively. Both authors read and approved the final manuscript.
Competing interests
The authors declare that they have no competing interests.
Open AccessThis article is distributed under the terms of the Creative Commons Attribution 4.0 International License (http://creativecommons.org/licenses/by/4.0/), which permits unrestricted use, distribution, and reproduction in any medium, provided you give appropriate credit to the original author(s) and the source, provide a link to the Creative Commons license, and indicate if changes were made.
Authors' Affiliations
(1)
Hue University of Agriculture and Forestry, Hue University, Hue, Vietnam
(2)
Institute of Integrative Biology, Swiss Federal Institute of Technology, Zurich, Switzerland